When someone asked us for a list of the coolest hotels in Utah, we were excited to give them our recommendations. If you're looking for fun places to visit in Utah, adding a unique place to stay is a bonus!
Our list includes five hotels ranging from 3-star to 5-star, and all offer luxury first-rate services. You can choose to stay in the city or the mountains with fun accommodation options that include suites, themed rooms and cabins.
All 5 hotels are in northern Utah with two in Salt Lake, one in Park City, one at Sundance, and one in Ogden.
If you're looking for a fun and unique getaway, look no further than these five coolest hotels in Utah.
Enjoy all that Utah has to offer while staying in style at one of these amazing establishments. Get ready for a trip of a lifetime!
Use our Utah Packing Lists to make sure you have the right clothing and gear for visiting any time of year! Grab your free printable packing checklist by clicking the image below!
Some of the links on this site are affiliate links, meaning if you book or buy something through one of these links, we may earn a small commission – at no extra cost to you! Read the full Disclosure Policy.
5 Coolest Hotels in Utah
We've compiled a list of the five coolest hotels in Northern Utah, perfect for an unforgettable getaway.
Montage Deer Valley in Park City
The Montage Deer Valley in Park City is a 5-star resort hotel with 220 guest rooms. It is the perfect place to enjoy the mountains in any season!
Guest Rooms
The guest rooms are about 600 square feet with interior décor accessories like brass lamps, carved mantels, and artwork with gilt frames. Sit by the fireplace to keep you warm or at the patio for fresh air. The Montage is considered a cool hotel in Utah due to the extra touches like its marbled bathroom that has a heated floor!
Restaurants
There are five restaurants on site. You'll enjoy a continental cuisine at Apex – its signature diner. At the bowling area, have a casual dining pizza experience at Daly's Pub & Rec. Indulge in Japanese dishes at Yama Sushi. A quick bite at Burgers & Bourbon awaits you! For dining with a fireplace, Vista Lounge is your bet!
Swimming Pools
For indoor swimming, take a plunge in the pool at the spa area. Or enjoy an outdoor experience at Camp Compass' Alpine Pool Deck.
CHECK OUT the Park City Utah summer attractions we recommend to make the most of your time at this bucket list destination!
The Grand America Hotel in Salt Lake City
One of the five-star coolest hotels in Utah, the Grand America Hotel is the most outstanding in Salt Lake City! Victorian theme graces its interiors such as crystal chandeliers, gilded wall panels, and antique furniture.
Guest Rooms
There are 775 guest rooms with English wool carpet and cherry wood Richelieu furniture. Feel elegant while pampering yourself in the spacious bathroom made of Italian marble. From the balcony, appreciate the picturesque scenery of Salt Lake City!
Restaurants
There are three restaurants on site for mouth-watering cuisine. If you're looking for a formal setting, the Garden Café features luscious classic American dishes. A more laid-back atmosphere can be found at the Gibson Girl Lounge to fill your craving for salads and sandwiches. Daily continental delights for breakfast are available at the Lobby Lounge. On the weekend, you can listen to live jazz music! Top it all off with bread, pastries, gelato, and macarons at La Bonne Vie.  
Anniversary Inn in Salt Lake City
If you're looking for a cool and unique place to stay, check out the Anniversary Inn!
Guest Rooms
The elaborate theme rooms with creative décor is what sets this place apart from all the other hotels. Have fun choosing the themed room where you'll be transported to a different time and place. Will it be the Swiss Family Robinson, where you climb the spiral staircase to your own private tree bed? Will you choose the Sultan's Palace, where a winged dragon surrounds the jetted tub and the bed sits atop two elephants? Or will you brave the Wild West, where you sleep in a covered wagon, then mosey into "town" for a hot bath? You're sure to have a fun and memorable night!
Extra Touches
Guests enjoy complimentary cheesecake and sparkling cider, as well as a free breakfast in the morning.
CHECK OUT this list of fun tours around Salt Lake City!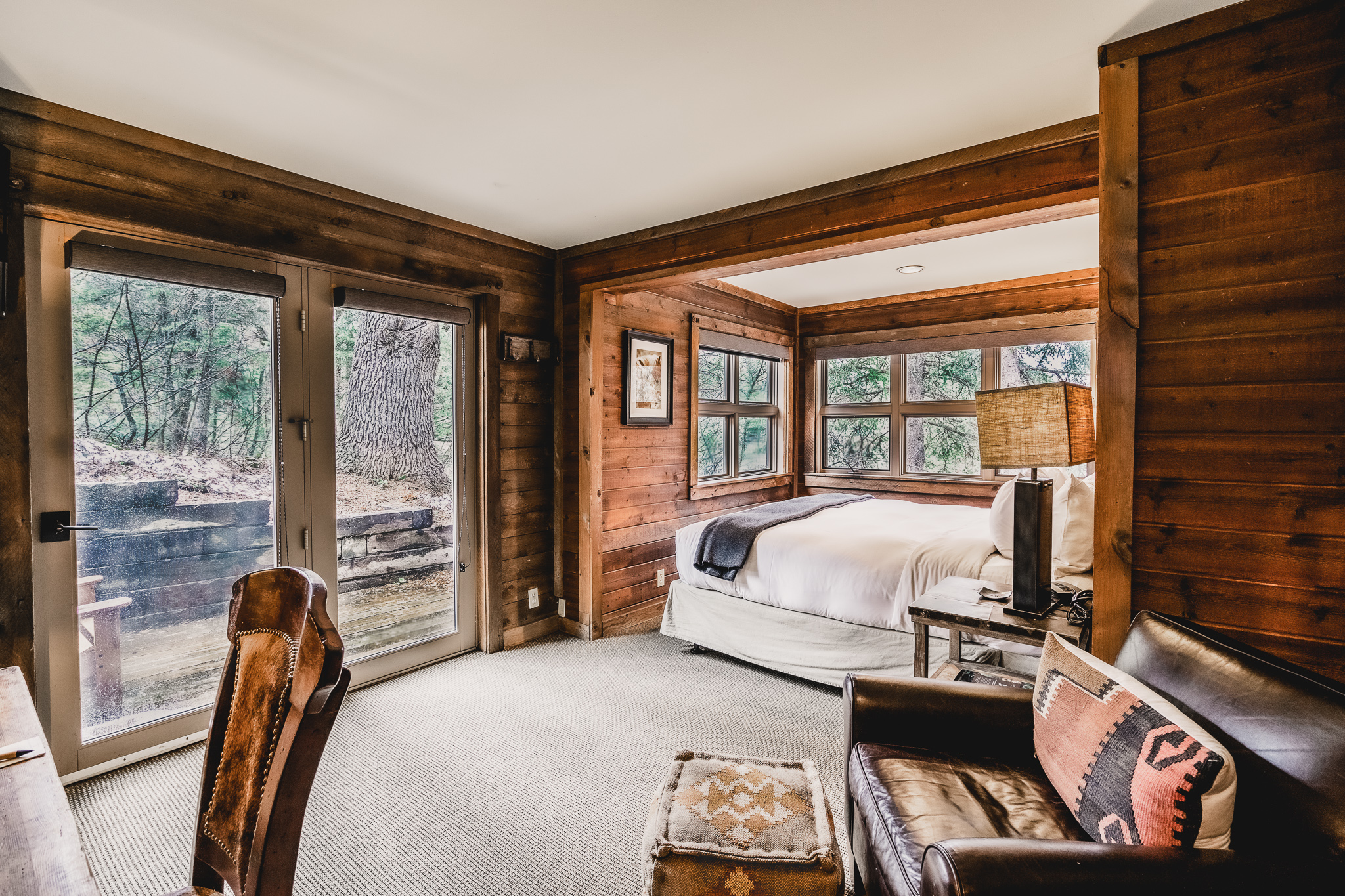 Sundance Mountain Resort in Provo Canyon
This four-star rustic resort-style hotel was developed by Robert Redford. Lodging at Sundance Mountain Resort gives you the feel of being in the mountains, but has all the conveniences of a full-service hotel and in a comfortable, yet luxurious setting.
Guest Rooms
Start your dream trip in one of the guest rooms of the coolest hotels in Utah! The lodging at Sundance Mountain Resort is in the mountains, surrounded by nature. Lodging options range from a luxury mountain cottage to a fully equipped mountain home.
You have the exclusive privilege of drinking from Sundance Art Studio's hand-blown reusable glasses. In the bathroom, handmade soaps of Sundance Farms are for use. Quench your thirst with complimentary coffee, hot chocolate, tea, or apple cider in the kitchen!
Things to Do At Sundance
The Sundance Mountain Resort is 5,000 acres of mountain preserve with Mount Timpanogos as the 12,000 foot backdrop! Activities include the Sundance Art Studio, The Spa at Sundance, Sundance Summer Theater, Sundance ZipTour, Sundance Scenic Lift Rides and in the winter skiing & snowboarding!
Alaskan Inn in Ogden
If you enjoy luxurious cabins and pampering, then a cool place to stay is the Alaskan Inn. It's easy to enjoy peace and quiet here because it's an adults-only bed and breakfast where you stay in your own little log cabin.
Guest Cabins
The 11 cabins at Alaskan Inn are designed for couples. Each cabin is decorated with a different Alaskan theme and includes a jetted tub, a soft bed with cozy bedding, lodgepole furniture, a bottled of chilled cider and chocolates. In the morning, breakfast is delivered to your cabin door.
Fun Extras
If you're celebrating something special for your getaway time, you can order fun extras for the room like rose petals on the bed, tea light candles around the whirlpool bath and a couple's massage!
Utah Bucket List
Check out our Utah Bucket List that includes ideas for things to see, do and taste all around the state! Grab the free download by clicking the graphic below!