Canyonlands Island in the Sky Campgrounds
Here's all the information you need to know about the Canyonlands Island in the Sky campgrounds, as well as the BLM camping areas nearby.
Use this Canyonlands National Park guide to plan your vacation. It has all the information about the campgrounds, camping spots, and backcountry camping regulations at Island in the Sky.
Canyonlands National Park is a stunning landscape of canyons, mesas, buttes, and rivers. It is home to some of the most spectacular campgrounds in the Southwest.
With its rugged terrain and stunning views, Canyonlands has become a popular destination for outdoor enthusiasts looking to camp under the stars.
This site contains affiliate links which means WE may receive commissions for purchases made through these links. We only provide links to products we actually use and/or wholeheartedly recommend! As an Amazon Associate, we earn from qualifying purchases. Read the full Disclosure Policy.
A Photo Tour of Canyonlands National Park
Take a visual tour through Canyonlands National Park (and Dead Horse Point) to see the stunning landscape in the parks!
Canyonlands Island in the Sky Campgrounds
Due to the remote location of Canyonlands, always be prepared with water, food and proper clothing so you can be self-reliant.
You'll even find sites to enjoy canyonlands winter camping. Services are limited or closed in the winter. Remember there is no gas, food or lodging at Canyonlands National Park Island in the Sky or Needles Canyonlands.
Here's a list of the campgrounds you'll find near Canyonlands Island in the Sky: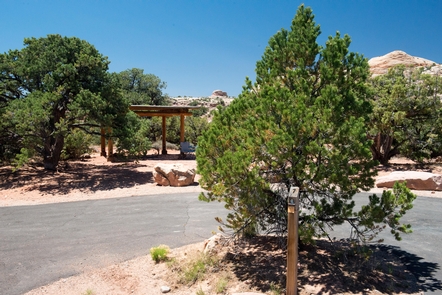 Willow Flat Campground
This is a small campground in Island in the Sky with 12 sites. It is fully operational all-year-round, but the sites fill quickly.
The nice thing about Willow Flat Campground is that it's only two minutes walk to the Green River Overlook and the spectacular view you'll see there!
The campground has pit toilets, several picnic tables, and fire rings. However, there is no potable water, so make sure you pack water for your stay. The campground also allows pets.
The site has a "first come, first served" policy. You can stay for a maximum of seven days.
Nearby Activities:
Hiking
Mountain biking
Off-roading
Photography
Facilities:
Areas for pitching tents
Fire pits with grill plates
Pit toilets
Covered and uncovered picnic tables with benches
Island in the Sky Backpacking Camping Areas
During the spring and fall, permit availability is highly competitive. If you plan to visit Island in the Sky during peak season, you may have to reserve your permit up to four months in advance.
Go to Recreation.gov to reserve the overnight camping site for Island in the Sky backpacking:
Select "activities and experiences"
Select Canyonlands National Park Overnight Backcountry Permits
Click "check availability"
Add a date, number in your group and Island in the Sky backpacking
You'll see availability for the various Zones
More information about Canyonlands overnight backpacking.
Murphy Point Overlook (Murphy Point Zone)
Some campers believe that Murphy Point Overlook offers one of the best-kept secrets in camping due the view, especially at sunrise and sunset.
There is a 1.8-mile hike to get to the overlook and camping area. There is a limit of one permit (1 group up to 7 people) for this camping zone. Murphy Point Overlook is an open desert site without facilities nearby
Syncline Campsite
The campsite is reached via the Syncline loop trail. The trail is a strenuous 7.9 miles round trip. It's a primitive camping site.
BLM Camping Near Canyonlands Island in the Sky
You'll find good camping locations on BLM land near Canyonlands Island in the Sky.
Lone Mesa Camping
The Lone Mesa Campsite is perfect for a large group of people. It is not part of the Island in the Sky, but is just outside the park boundary.
Lone Mesa's proximity to the Island in the Sky means it's a popular place to stay so make reservations in advance! The campsite does not have potable water and electric hook-ups, so make sure to come prepared.
Staying at Lone Mesa means you are also close to: Arches National Park, Dead Horse Point State Park, Gemini Bridges, the White Rim Trail, and the Green River.
Facilities:
Fire grates
Picnic tables
Shade shelters
Vault toilets
Parking areas
Water: No
Hook-ups: No
Horsethief Campground
The campsites at Horsethief are surrounded by pygmy pinyon-juniper trees on the mesa above Moab with great views.
Individual sites are available on a first-come, first-served basis. The Horsethief Group Site is available for reservation through Recreation.gov.
People enjoy staying here because of the nearby 4WD roads and mountain bike routes as well as Island in the Sky, Dead Horse Point and Arches National Park.
Facilities:
Individual Sites: 85 (limited to 10 people & two vehicles per site); Group Sites: 5 (reservable)
Pit Toilets
Picnic tables
Parking areas
Fire pits
Water: No
Hook-ups: No
Cowboy Campground
You'll find secluded campsites on the ridge of the mesas above Moab to enjoy stunning views. High clearance required, no RVs, trailers or pull campers.
Individual sites are available on a first-come, first-served basis.
The area has many 4WD roads and mountain bike routes and is close to Island in the Sky, Dead Horse Point and Arches.
Facilities:
Seven individual sites (limited to 10 people & two vehicles per site)
Pit toilets
Parking areas
Fire pits
Water: No
Hook-ups: No
RV Camping Near Island in the Sky
In case you can't get a spot in the park, you'll find campgrounds and RV Parks near Canyonlands:
There are also quite a few BLM campgrounds in nearby Moab for RV camping:
BUY AT AMAZON: Arches and Canyonlands Guides and Maps
Plan Your Canyonlands Vacation
Canyonlands Itineraries
Check out our done-for-you 1, 2, and 3-day Canyonlands Itineraries to help you plan your vacation based on the time you have to spend at the park: